Today we made pancakes!
Not just any-old-ordinary-everyday-pancakes, but gluten-free-grain-free-chocolate-pancakes!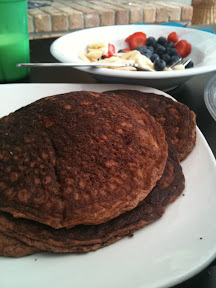 And guess what?
They were GOOD!
Not just I guess this ok and will have to do since I can't eat gluten anymore good, but I can't believe these pancakes don't have any grain at all can I have another one good!
Don't take my word for it though!
These were happily taste tested, and then retested, by our lovely volunteers (and sous chefs)...
...and they agreed, 'can I have some more?' good!
Mission accomplished, and the best part was we got to hang out with our sweet friends while we cooked them!
Thanks for the recipe MB! ;)
- Posted using BlogPress from my iPhone