Tuesday was Mardi Gras!
AKA- Fat Tuesday
But ours was a Phat Tuesday.
P.H.A.T. Phat.
Being from south Louisiana, right outside of New Orleans, if I don't celebrate Mardi Gras, I might get disowned, or banned from the state!
So we planned a cajun style feast with some friends, and threw our own little party.
Our friends were participating in some kind of promo thing from
Zatarains
, so they had all kinds of boxed foods and recipes to try- jambalaya, red bean and rice dip (yum), and even a home made king cake recipe!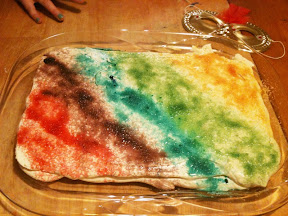 Now I know my Louisiana peeps will take one look at this pic and say "that's not King Cake"!
But, I have to say, it was pretty tasty.
Other than the colored sugar, it really was nothing like the king cake we grew up with every Mardi Gras season.
It was more like a real cake, a really thin layer cake, with root beer flavored cream cheese frosting.
(I've never seen root beer flavored filling in a 'real' king cake before, cream cheese yes, root beer? Hmmm...)
But that was the recipe
Zatarains
sent her, and it WAS very tasty.
They also sent her a recipe for homemade root beer, which luckily we just so happened to have all the right ingredients on hand between us, so we went ahead and tried that too!
I was wondering what was up with all the root beer stuff, but I think the hostess was hoping for me to have an answer to that question. I didn't.
So being the curious minded person that I am (or just feeling slightly ignorant and uninformed about my heritage), I asked my dad about it today.
He didn't know either. But he did come up with the fact that the 'root' in root beer is from the sassafras plant, which is also the plant used to make file (pronounced fee-lay) powder.
That I knew. I guess that makes sense then.
(But i did have to pick up the Zatarains box to see if it was really based in Louisiana.)
It was. New Orleans. Oh well.
Anyway, the reason I spelled it:
P.H.A.T. Tuesday
Is because it sounds just like:
Fat Tuesday
But it's just not quite the same.
Everyone knows (ok, maybe not everyone, maybe just everyone from my hometown), that real jambalaya doesn't come from a box (or have tomatoes in it), and real king cake looks like a huge oblong donut with filling inside the pastry (which is most certainly nothing like cake).
All technicalities aside, we had a very nice night with friends, the kids got to dress up and make Mardi Gras masks...
...and I had a good excuse to make some gumbo, (which started with a roux, not a box).
So even though it was somewhat of a 'faux' Cajun style celebration, for Dallas, TX...
...still pretty phat!
;)