Did you ever have one of those days where you felt like the whole universe was conspiring to make you feel abundantly blessed and excessively happy?
Today was that kind of day.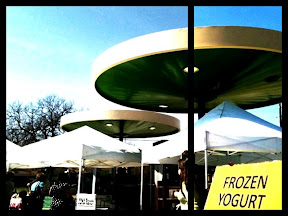 Starting with a solo trip to the farmers market at white rock lake, which felt anything but lonely because of the warm, friendly, neighborhood vibe of the market and the people there.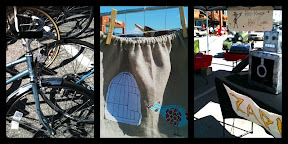 So many cool vendors, selling everything from refurbished vintage bikes, to adorable handmade clothes and jewelry, to repurposed plastic ray guns and rocket packs!
Oh, and you can find beautiful real food there too! (assuming you can peel yourself away from the artists tables)
Everyone i encountered was friendly, and kind, and interesting, and encouraging and inspiring.
It was all so uplifting.
Maybe it was just the Farmers Market Effect, but the rest of the day was just as pleasant, if not more so.
I stopped at the nursery on my way home from the market, and found heirloom tomatoes and pole beans!
Just a week ago, I asked about heirloom varieties and genetically modified seeds at this very same nursery, and the woman looked at me like I had a nipple growing out of my forehead, and then screamed over her shoulder for "EARRRL!", like she was calling the bouncer to throw me out for breaking the rules.
Today, they had a whole table of heirloom veggies, so I bought one of each! (I hope my friends like tomatoes)
Add to that the fact that after my near miss with EARL last week, I came straight home and ordered heirloom seeds from two different etsy stores; but for some reason, still haven't gotten them. :(
So I was talking to my dad on my drive home from the market, about his freshly flooded tomato plants, and my impatience with waiting for seeds, and how I wished I had ordered sooner bc I really needed to start them weeks ago, etc...
Well, since he clearly wasn't done talking, and my sister was calling on the other line, I figured i needed more phone time, so decided to pull in to the nursery and just tool around for a while.
...and I found heirloom tomato plants, already started for me.
Wink wink universe! ;)
Then I came home to my girls happily playing with barbies and littlest pet shops in the grass, my hubby happily washing and tweaking his new bike, birds singing, sun shining, soft breeze blowing...
There was so many things, too many little details to even be able to express, but today felt like a really warm hug.
Thanks universe!
-Posted using BlogPress from my iPhone