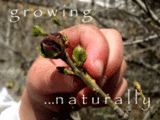 I LOVE
THIS!
I have two daily dreams about the future possibilities for our little family of four.
The first is to be a band of gypsies, traveling around the country in a green machine, (an eco-friendly renovated rv or bus), living with only what we really need, nothing more, exploring this big amazing world one stop at a time. From one state park to the next, pulling off to explore anything that tickles our fancy at our own leisurely pace.
The second is to have a nice patch of grass to call our very own, and my favorite vision is of my kids bare feet hanging side by side from an old wood plank swing, wide enough for both of them, on long, slow-swinging ropes from a big old oak tree, branches hanging close to the ground, like they want to pick the wildflowers.
Hence, the name of this blog: Roots...and....Wings
Oh, to find the balance...